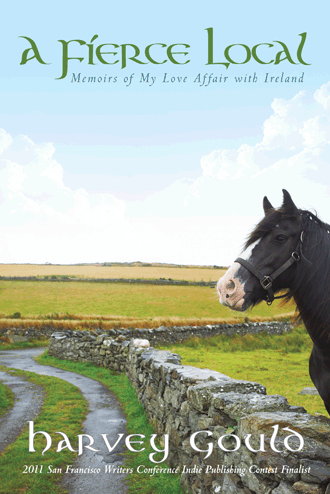 Whether you're Irish, Catholic, Jewish, a horseback rider, have or know someone coping with a chronic disease, love Ireland or thought about going there, enjoy learning about another country, like a love story, enjoy memoirs which with humor and pathos recount stories about interesting people and events, this is a book for you.
About my latest book, A Fíerce Local: Memoirs of My Love Affair with Ireland
After a twelve-year courtship, author Harvey Gould, a nice Jewish boy from Chicago, marries Karen Duffy, a beautiful, Irish-Catholic lass from Manhattan. Karen instills in Harvey her love of horses, family history, and Ireland itself, and the two embark on twenty years of adventures in the Old Sod.
In this memoir, Gould offers a vivid picture of what it's like to travel and live in Ireland. From riding in foxhunts to Irish step-dancing on a pub's dirt floor to drinking Guinness directly from the tap, A Fierce Local presents a firsthand look into Irish history, its social customs, and its culture. He also writes of returning to the tiny village of Adare, where they became so integrated into the local life the residents accept them as two of their own and bestow on them the honored moniker of "fierce locals."
A Fierce Local also narrates Gould's personal story as he's diagnosed with a terminal disease and given five years to live. His battle teaches him universal lessons and deepens his ardor for life, his wife, and for Ireland. With humor and pathos, this account shares tales about the country's people and places—the site of a never-ending love affair.